Drum Filters in Land Based Fish Farms
Drum Filters for aquaculture farms are mechanical units which materialize an efficient, robust and reliable solution in the process of solid and organic matter separation and filtration. These automatic self cleaning microscreen filters are able to handle a wide range of flow rate and backwash, utilizing micron rates from 10μm up to 10000μm. They are designed for high performance filtration in land based aquaculture water treatment systems such as salmon farms.
Engineering & Operation
Drum Filters - Water Treatment, Part 1/2
Drum Filters - Water Treatment, Part 2/2
Types of Drum Filters
The Micro Drum Filters are available with different configurations.
Available in 7 different drum diameters: 0.5 m -2.2 m OR 1.64 ft to 7.21 ft.
Available Filtration Area: 0.7 m²–21 m² or 7.53 ft² to 226 ft².
Available in two material types: All pastic tanks by Polypropylene (PP) or Titanium / Stainless Steel / Super Duplex Frame.
Advantages of Drum filters in Water Treatment
Filtration degree from 10.000 down to 10 micron.
Wide range of flow rates: 1m³/h – 4000 m³/h or 4.4 gpm – 17611 gpm.
Filtration without flow interruption.
Automatic Backwashing with means of both Pressure Difference and Timer.
Multiple material, tank type and frame type fabrication and design options.
Easy and hassle free maintenance.
Large Filtration area with 75% of Submerged Drum options.
Available with ATEX certificate requirements.
Mechanical Self Cleaning Filters
Drum Filters are able to operate in water with high salt concentration, providing corrosion resistance in particularly chloride stress conditions and chloride pitting corrosion.
Application in Salmon Farming RAS & Land Based Aquaculture
The MAT-KULING Drum Filters are specifically designed for land based aquaculture fish farms, salmon farms, hatcheries and other fish farming applications. They are available in stainless steel 304,316, Duplex SS, Super Duplex SS and Polypropylene in order to be able to treat both salt and fresh water fish farms.
Drum Filters Operation & Backwash Process in 6 Steps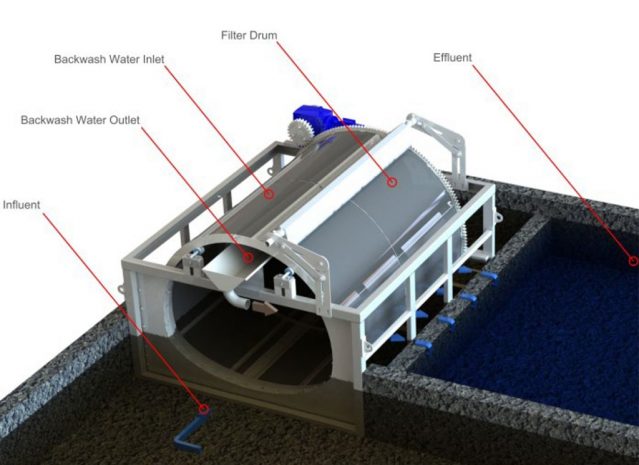 Untreated water enters the drum and is filtered through the screens before passing back to the system.
Driving Force (Sieving) = The difference in water level inside/outside the drum.
Solids are trapped and lifted to the backwash area by the rotational movement of the drum.
Drum rotation can be intermittent or continuous depending on the type of control set by the operator.
Backwash water is sprayed via nozzles from the outside onto and through the filter screens.
Rejected materials are washed out of the filter screen into the collection tray and discarded from the filter using gravity.