Land Based Aquaculture – Fish Farming
MAT land based aquaculture farming technology offers engineering solutions for sustainable farming, a common statement used by many specialists online, but we at MAT-KULING have a solid competitive advantage.

Why cooperate with MAT-KULING in Land Based Aquaculture Farms?
Take advantage of our expertise and get benefited from working directly with a first source service and equipment provider that can deliver the job with its own in-house team, avoiding paying the overhead premiums larger vendors apply. Working with MAT-KULING will give you direct access to the primary fabricator of all the MEP equipment needed on a fish farm, skipping local distributors and wholesalers overhead fees.
MAT-KULING designs fish farms, a service deriving from its fabrication capacity of making its own RAS (Recirculating Aquaculture Systems) equipment.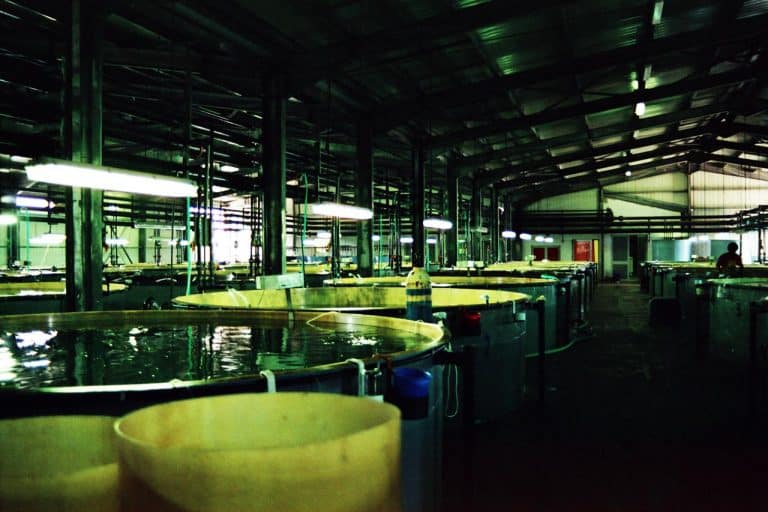 What we Offer for Fish Farms?
Our contracting department covers all the MEP (Mechanical, Electrical, Plumbing) involved elements in the development of a large scale fish farm. We take care everything from design to procurement, fabrication, and any MEP contracting related activity. We will cooperate with your selected civil contractor and will set the specifications providing detailed shop drawings to build.
Building large scare intensive production fish farms involves a civil works contractor and a specialty MEP contractor. MAT-KULING designs farms and fabricates its own RAS equipment as well as using certified MEP components of other fabricators to deliver a complete intensive fish farming system. Our procurement relations with many reputable OEM fabricators such as pump manufacturers, UV systems, RO systems, PVC and HDPE pipe manufacturers, and other MEP vendors, allows us to offer the complete MEP package for a fish farm project.
Large scale farming mostly involves concrete built reservoirs for holding tanks and biological sewers. We have the in-house team to design and set the specifications for civil contractors. MAT-KULING has successfully delivered projects in over 20 countries and has the capacity and expertise to mobilize its contracting team wherever this is requested.
Why MAT-KULING Scalable Cluster Intensive RAS equipment?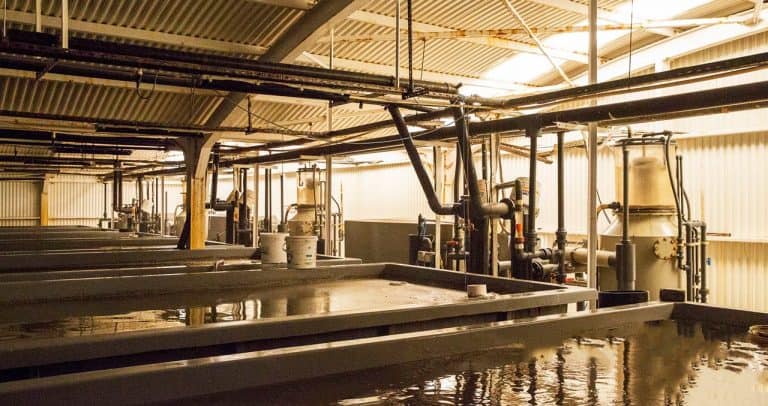 MAT-KULING has the reputation of designing and fabricating equipment that provide complete filtration in the smallest possible footprint. We work on our own designs, having one principle, to provide the best water parameters for the living animals we support their lives. Offering the best possible water conditions has an immediate effect on the production yield. Thus it makes our designs more sustainable than other traditional farms.
We understand the fact according to, fish farm profits are generated from high volume production. Therefore we design and build scalable cluster filtration units. This allows the fish farms to develop faster without having to design new systems each time they need to further develop.
Why buy other vendor's RAS equipment through MAT-KULING?
We understand the importance of our client's procedures and we follow practices that will satisfy strict due diligence procedures for multiple supplier offers. We are in position to offer you a technical description and our professional opinion for various MEP components in the market. This allows our client's procurement decision to proceed with the appropriate components for the project.
MAT-KULING will supply, install and support the after sales service of other fabricators MEP equipment offered through our procurement practices. This allows our clients to focus on fish farming and spent less tome in communicating with various service providers to find a viable technical solution.
LAND BASED AQUACULTURE EQUIPMENT