After several cancellations of events and conferences due to Covid-19, Aqua Nor is the first trade fair of the year which will bring the aquaculture industry professionals all together. For the first time in its history the event will be held in an hybrid format of digital as well as face to face meetings. The fair is taking place in August 24-27 in Trondheim, Norway and as expected MAT-KULING we will be taking part and we will be waiting for you at our AQUA NOR Stand (A-168b).
​
NOWADAYS DEMANDING LAND BASED AQUACULTURE
The aquaculture industry is currently moving to a more sustainable land based fish farming production, powered by eco-friendly and high-end Recirculating Aquaculture Systems (RAS). As more and more fish farms look to the efficacy of RAS, the RAS equipment manufacturers must ramp up research and development for cost-effective solutions. This is what our team of experts will present to you in our stand. Cost Effective and Intensive RAS Applications to Secure and Maximize your Fish Production. Bjorn Dorum, co-owner and Managing Director of MAT-KULING will be present in the stand to answer any question you may have.
Innovative Patented RAS Equipment On-Site
For the first time we are presenting DE-SNOTTER, our patent pending innovative device added to the Protein Skimmer Cap which is especially developed for RAS applications and it provides a solution to thick protein foam removal in Foam Fractionators.
You can also have a close look at our compact RAS unit in operation, a plastic Pump Strainer for demanding RAS applications and a preassembled skid mounted hatchery filtration unit. We will discuss all the newest MAT & MAT-KULING developments, as well as techniques and services in this fast-growing industry.
Online Digital Exhibition
Anytime for the next few months you can view our digital stand and schedule an online meeting with our team by clicking on the image below: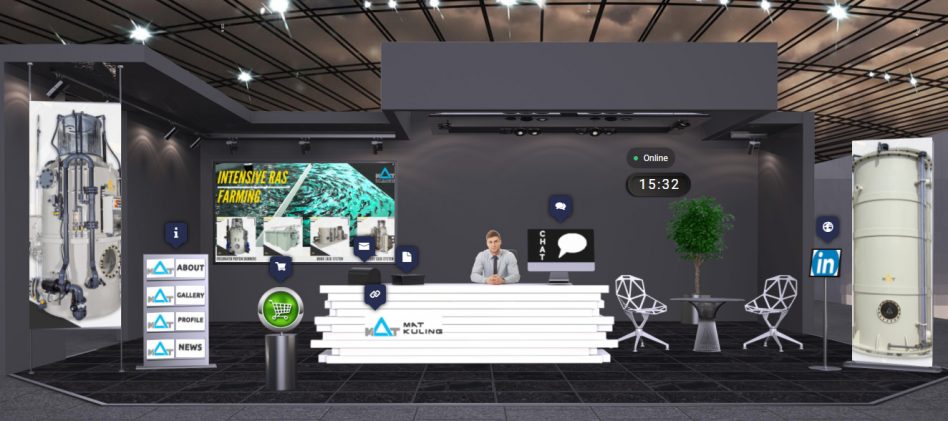 Aqua Nor 2021 Video
MAT KULING at Aqua Nor 2021 Interview with Kjetil Kolbeinsvik
MAT KULING - Aqua Nor 2021